Wibbly Pig Toys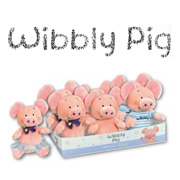 The CBeebies TV show Wibbly Pig is based on a series of children's books written by Mick Inkpen. Described as both imaginative and warm as well as surprising, the stories are created in such a way as to engage the young audience and keep them involved in each different adventure.
Wibbly Pig toys, books and games are designed especially for all the little fans of this lovable character and Rainbow Designs have created a series of soft toys based on him. These comprise of Wibbly himself, and also include his own favourite toys: Flop, Pigley and Dimple.

Wibbly Pig lives in a gentle world where there's no limit to where he may end up – it could be flying under a balloon, taking a ride on a passing cloud or even looking for giants in a nearby castle. All of these fascinating scenarios lend themselves to a whole series of Wibbly Pig toys as well as simple games and wooden jigsaws.
A gorgeous Wibbly soft toy comes complete with his favourite blanket, and a hand puppet enables kids to create their own expressions and faces. A collection of smaller beanie-style soft toys have Wibbly and his friends dressed in different outfits. There's even a special Wibbly-branded rucksack to carry everything around in!
DISTRIBUTORS

RECOMMENDED RETAILERS

Amazon
The world's most famous online retailer sells an unparalleled selection of toys.
Buy Wibbly Pig toys now >>