Lego Mini-Taurus
No customer reviews yet. Be the first.
Although best known for their construction kits rather than their games, LEGO's 'board games' are instant classics. This is particularly true of their "LEGO Mini-Taurus" game which, like all other games in the series, requires some construction before it can be played.
The concept of the game is pretty straightforward: Find your way through a labyrinth towards a hidden temple, making sure not to bump into the Mini-Taur or your opponents on the way! As with other games in the LEGO range, Mini-Taurus is played with dice that have interchangeable pieces. This means that no two games will ever be the same, since the rules can be mixed up half way through.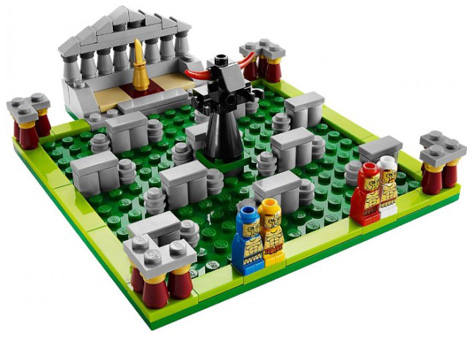 One of the great things about the LEGO Mini-Taurus game is that it uses standard LEGO pieces - meaning that it is possible to grab some blocks from your other kits to really mash things up and create a completely unique experience.
RECOMMENDED RETAILERS

Amazon
The world's most famous online retailer sells an unparalleled selection of toys.
Buy Lego Mini-Taurus now >>