Oball
No customer reviews yet. Be the first.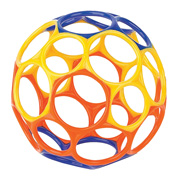 Main Oball Features:
With their novel more-hole-than-ball design, Oballs are created especially to be easy to handle and catch, and therefore encourage ball skills and confidence. Made from a soft, squashy plastic material, they are free from PVC, phthalates and latex, and are machine washable. The range includes a small (4") ball, a rugby ball, a large size (7.5") ball and a bat and ball set with a scoop-and-store feature.
Oball Benefits:
Gwendolyn, 22 months, loved the little Oball she played with. Adult testers noted that it gave her "a great opportunity to start to catch and be successful". Keva, age four, liked it for the same reason: the holes make it easier to catch. Alex and Sam, aged seven and four, rated the rugby ball equally highly – while their dad noted that "it does not – even when thrown directly – break windows." Definitely a good feature, whether the play is inside or out!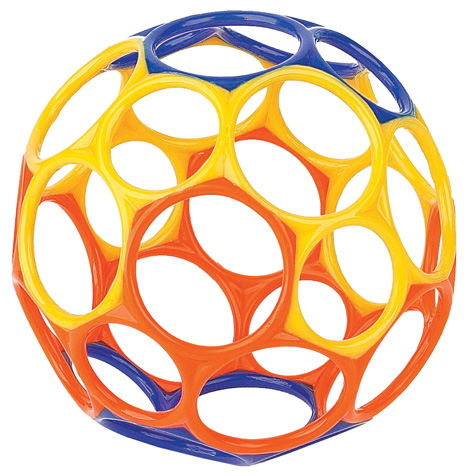 The Oball set with matching large-scale, lightweight bat was also a hit, ideal for older children who liked it "because it's different." The large Oball is great as a first football. "These balls have great appeal to a wide age range," as one parent, whose children Dorothy, Arthur and Lucy are aged two four and six, remarked.
Children of a wide range of ages with different additional needs enjoyed and benefited from playing with the small-size Oball. "Overall, a thoroughly excellent toy," one tester commented, summing up the broad and inclusive appeal of the Oball.
Skills:
Hand-eye co-ordination, large motor skills, physical development, social interaction.
Related Products
People that like the Oball may also like the Oball Rattle.
RECOMMENDED RETAILERS

Amazon
The world's most famous online retailer sells an unparalleled selection of toys.
Buy the Oball now >>