Oball Rattle
No customer reviews yet. Be the first.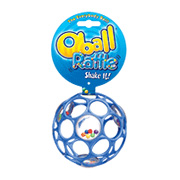 Oball Rattle Toy Review
Crazee Thingzs Ltd
Recommended Age
Birth to 3 Years
Main Oball Rattle Features
Brightly-coloured with an inbuilt rattle, this durable ball can be squashed and squeezed yet miraculously returns to shape, much to our tester's amazement! Parents were impressed by the reasonable price and were also pleased to hear it can be cleaned in the dishwasher.
Benefits of the Oball Rattle
Younger babies were instantly engaged by the noisy rattle, and the open-net design makes it easy for small hands to grip, encouraging motor-skills from an early age. Older children enjoyed rolling and throwing the ball to other playmates, making this an excellent choice for promoting interaction with others in group play-sessions.
Skills
Hand-eye coordination, life skills, observation and concentration.
Related Products
People that like the Oball Rattle may also like the Oball.
RECOMMENDED RETAILERS

Amazon
The world's most famous online retailer sells an unparalleled selection of toys.
Buy the Oball Rattle now >>