Chubby Puppy Friends
No customer reviews yet. Be the first.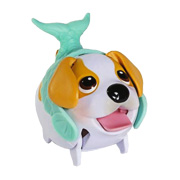 Chubby Puppies took the world by storm in 2015 with their exceptionally cute tumbling, bumbling and waddling. Featuring a Husky, Cocker Spaniel, Boston Terrier and Golden Doodle, each came with its own fashion accessory such as glasses and a pretty pink bow.

Following the success of these adorably sluggish puppies, Chubby Puppy Friends were announced in 2016 which are suitable for children aged 4 and over. It turns out the puppies' friends are kitties and bunnies - but don't fear - they are equally as lazy and also come with their own very special fashion accessory.