Circa Calendar
No customer reviews yet. Be the first.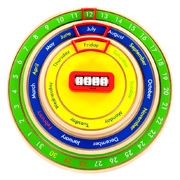 As innovative educational toys go, they donít get much better than Circa, a terrific multiple award winning wooden calendar for children. Circular in shape, each removable layer builds up to teach kids all the elements of the calendar system, and how it all fits together during a twelve month period.

Through a clever arrangement of interlocking circles, children first learn about the yellow disk that teaches the days of the week. These are colour coded to take account of weekdays and weekends.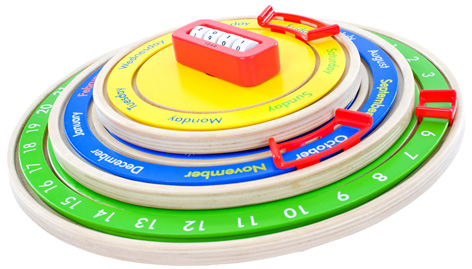 Next, the green circle shows the number of days in each month, and how they vary from 28 to 31. After this comes the blue circle that teaches the months of the year. A clever addition to this section is another rotating disc that also shows the seasons. This can be turned to take account of whatever part of the world you live in. On the top of the pile sits a neat red box with four cylinders that can be turned around to show the year.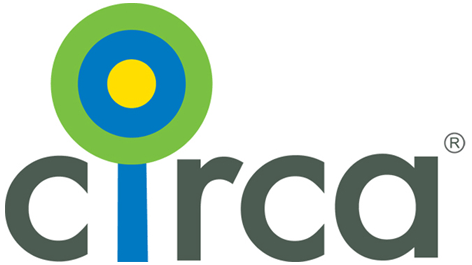 A number of re-usable stickers are supplied with the Circa Calendar to let kids mark special days of the week like football club or dancing class. The product is not only functional and good to look at, but its light enough to be moved around the house into any room.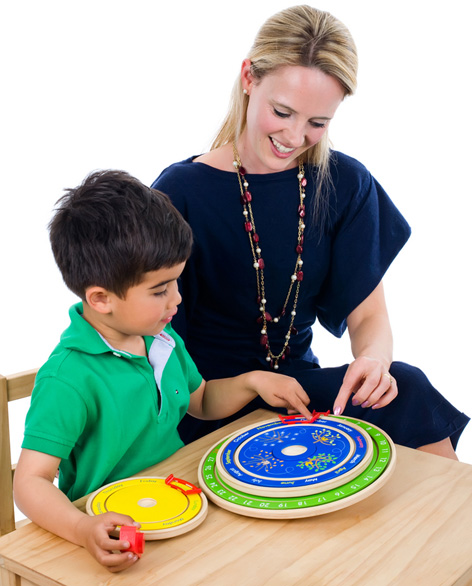 Developed by Melinda Holohan and put into production by her company Eleventyone, Circa is a ground breaking toy that revolutionises teaching children how to understand the daily, weekly and monthly cycles of each and any year.
The calendar has won an impressive list of awards, including the Best New Children's Product and the 2011 Top Drawer show and the winner of the Inventor Category at the 2011 British Female Inventors & Innovators Awards.
RECOMMENDED RETAILERS

Amazon
The world's most famous online retailer sells an unparalleled selection of toys.
Buy the Circa Calendar now >>