Doctor Who Ride-In Dalek
No customer reviews yet. Be the first.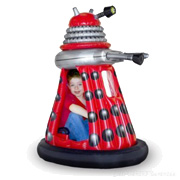 Any child Doctor Who fan – and there are millions of them – will be thrilled to own their own Doctor Who ride-in Dalek toy that they can actually get inside and operate! Featuring a strong plastic base on which to stand and an inflatable Dalek body, itís powered by a robust rechargeable 6 volt battery and steers through 360⁰ just like the real thing!
A soft surround on the base helps to protect furniture, and the Doctor Who ride-in Dalek toy also features moving exterminator and manipulator arms. Available in red (general sale) and white (Argos only) this toy is capable of taking children up to 30kg in weight. As if this isnít enough, the Dalek stands almost 130 cm high and additionally each one features 10 amazing Dalek sounds as well as flashing lights! Offering terrific play value, kids can fight their own Time Lord battles with the Doctor Who ride-in Dalek toy.
RECOMMENDED RETAILERS

Amazon
The world's most famous online retailer sells an unparalleled selection of toys.
Buy the Ride-In Doctor Who Dalek now >>