Duplo Zoo
No customer reviews yet. Be the first.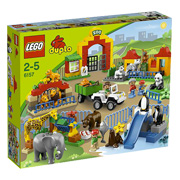 Hardly a year goes by without LEGO making a Duplo Zoo. These larger LEGO Duplo pieces are perfect for small hands, and come with a recommended age of 18 months to 5 Years. A lot of building fun can be had during this important developmental period in any child's life. Kids love the mixture of animals and construction; even better when the giraffe's neck moves, or the elephant can be made to lift his trunk!
Hours can be spent putting together this action-packed Duplo Big Zoo that come complete with a selection of animals, fences, visitors, vehicles and even a variety of zoo buildings. These items stimulate creativity among older children, although the pleasingly chunky pieces are still ideal for smaller hands, who love clicking the bricks together. Durable, hard-wearing and easily wiped clean, all LEGO Duplo Zoo sets make a long-lasting addition to play time.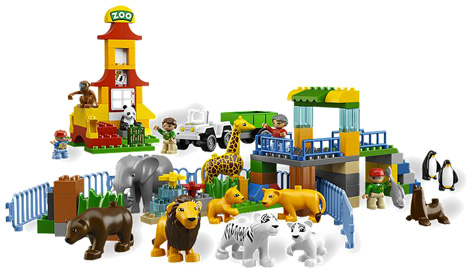 This LEGO Duplo set also has four different human figures as well as a lion cub, sea lion, monkey, white tigers and penguins. As an added bonus, this Zoo also includes a vehicle complete with a detachable trailer. This usually transports all the food to each animal enclosure but can also be used to take visitors around the site.
RECOMMENDED RETAILERS

Amazon
The world's most famous online retailer sells an unparalleled selection of toys.
Buy the Duplo Zoo now >>