DX Flying Baymax
No customer reviews yet. Be the first.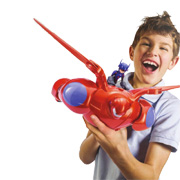 Standing a massive 28 cm tall, the Disney Big Hero DX Baymax toy has to be seen to be believed! Faithfully recreating the hero figure in the movie, he also has an immense 46 cm wingspan when fully outstretched. As you'd expect from the clever designers at Bandai, this toys packs a whole lot more features for extra play value and realism.
By attaching the smaller included Hiro figure, kids can activate the awesome sound and light effects. By simply tilting Baymax in pretend flight, the sounds change as if by magic! Alternatively, these features can be activated by pressing a button on the front of his chest.
Best of all has to be the Baymax rocket firing fists as featured in the film! Watch out as he fires them at full power. With fifteen points of articulation this remarkable toy is just one in a series of products that includes all the movies main characters in a range of collectable figures. Check out the Rocket Fist for even more fun and action.
RECOMMENDED RETAILERS

Amazon
The world's most famous online retailer sells an unparalleled selection of toys.
Buy the DX Flying Baymax now >>