Bandai Toys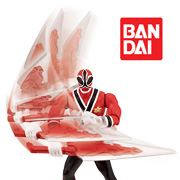 Best known in the UK as distributors of Power Rangers toys, Bandai is a huge Japanese toy company that creates and manufactures superb branded character toys and model kits for countries all over the world. Whilst many of their products are geared towards the far eastern markets, Bandai toys sell in their millions to UK fans of TV shows like Ben 10, Masked Rider or Teen Titans.
As creators of the first electronic pet known as Tamagotchi which transformed playtime in schools around the world, Bandai toys continue to develop and include even more complex electronics for maximum realism. The Digimon electronic game primarily aimed at boys soon followed the release of Tamagotchi, and was developed into TV series and films with increasing levels of sophistication. Bandai toys based around Digimon have also sold in their millions.
Other Bandai toys are based around other famous brands like Noddy, Pokemon, Key Tweens and Pocoyo although Power Rangers and Ben 10 Alien Force toys are by far and away the most popular. The Tamagotchi Friends re-launch uses the newest technology to allow owners to send message to their friend's pets by simply bumping them together. The legendary Pac-Man even returns with a new collection of figures and vehicles based on the Disney XD channel show.
The Harumika collection of dolls and accessories is specifically aimed at little girls, and is another of Bandai's success stories. The simple-to-use mannequins simply have the material wrapped around them and tucked into a concealed slot in the back. With dozens of different styles and sets to choose from, girls can even create their own unique designs.
HERO PRODUCTS
LICENCES HELD BY BANDAI
RECOMMENDED RETAILERS

Amazon
The world's most famous online retailer sells an unparalleled selection of toys.
Buy Bandai toys now >>

Kiddimax Character Toys
A UK-based website that sells character toys and other character-based products.
Read more about Kiddimax Character Toys >>