Tamagotchi Pets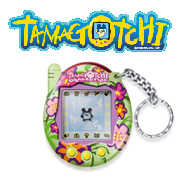 Although Tamagotchi toys have come in for some criticism from parents who argue that the electronic pets are unnecessarily distracting for children, this hasn't reduced the massive market for these little egg-shaped computers. An estimated 80 million Tamagotchis have been sold since it was first launched in 1996.
The toy company Bandai has been responsible for marketing the product worldwide - and has kept interest alive by regularly launching new and exciting features. This began with infrared capabilities being added which allowed Tamagotchi's to 'talk' to each other. The next generation enabled kids to earn Gotchi points (which could be used to buy goodies for their pets) and versions 4 and 4.5 enables you to send your Tamagotchi to school or even allow it to become a rock star!

Versions 5 and 6 followed, each with an additional play element to keep the kids collecting this miniature electonic phenomenon. Re-launched in 2013, the newest version known as Tamagotchi Friends appeals to a new audience of child consumers who are seeing one for the first time.
By incorporating Near Field Communication, kids can 'bump' their devices together to swap text messages or see each others virtual pets. Supplied in six vibrant colours and using a bigger screen, there's no doubt that many more millions of these popular pets will be sold before it's reinvented yet again.
HERO PRODUCTS

DISTRIBUTORS

RECOMMENDED RETAILERS

Amazon
The world's most famous online retailer sells an unparalleled selection of toys.
Buy Tamagotchi pets now >>