Power Rangers Toys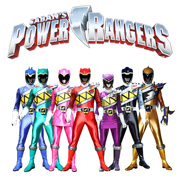 One of the most enduring brands of action figures and vehicles has to be Power Rangers. Based around the superhero characters who "morph" into powerful individuals to take on the aggressive but mighty Zords, the show's accompanying toys are faithful reproductions of the characters and vehicles seen in the TV series.
The good guys are always dressed in brightly coloured suits of red, green, blue and yellow, and the various toys inspired by Power Rangers follow each TV series with realistic copies of the characters. Other colours are introduced from time to time, together with new Zords and fighting vehicles.

A new TV series is created each year, with the UK network typically following a year after the airing in the USA. New merchandise is usually launched to coincide with the series launch at the beginning of each year - and toy shops report brisk business of the figures, vehicles and weapons that the characters use. As with most modern TV series, Power Rangers toys have hundreds of spin-off products in the form of films, books, DVDs and stage shows.
With 2013 marking the 20th anniversary of the Power Rangers TV series, Bandai had a special series of launches in the Autumn. Called Power Rangers MegaForce, a whole new series of vehicles, action figures and the inevitable Megazords launched. Each year sees a new range of figures and playset launches with 2014 being the turn of the Super Megaforce collection. The special keys included in the sets lets them morph into any of the previous series of figures and use their individual special forces and weapons. The keys can also be inserted into the Legendary Morpher which will recognise the characters from the past. It also includes awesome lights and sounds for extra realism.
It was the Power Rangers Dino Charge series in 2015 that rolled into town. This time the favourite Rangers are searching for the hidden 'Energems' that help to save the world. They accomplish this by using their Dino Charger Morpher. This fantastic toy includes amazing LED lighting effects as well as featuring no less than 25 different battle sounds. The cycles can be launched up to three metres away when used in conjunction with the special Dino Charger toy. Action figures, Zords and Megazords all feature in Bandai's impressive line-up of toys and role play accessories.
2016 sees the franchise's next series named Dino Super Charge. Featuring all the familiar Power Rangers characters, their actions are super charged with a series of new twists, turns, jumps and fighting skills. Needless to say they have to battle new Zords and Mega Zords in order save the world from extinction.
DISTRIBUTORS
RECOMMENDED RETAILERS

Amazon
The world's most famous online retailer sells an unparalleled selection of toys.
Buy Power Rangers toys now >>

Kiddimax Character Toys
A UK-based website that sells character toys and other character-based products.
Read more about Kiddimax Character Toys >>