Ferrari FXX Exclusive Pedal Go-Kart
(1 review)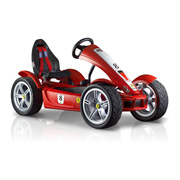 Ferrari FXX Exclusive Pedal Go-Kart Review
Scaling the heights of popularity since racing car maker Art Ingels built the first go kart in Southern California back in 1956, this "toy" remains one of the most enduring of all traditional toys, and continues to excite children and adults alike. There are go-kart circuits across the UK where kids regularly take part in races up to the highest level – and the range of go karts by Berg are designed to meet those standards.
Right at the top of the range is the Ferrari FXX Exclusive. Thrilling to look at and twice as thrilling to ride, this go kart combines amazing aesthetics with hi-tech features to ensure speed and comfort.
The Ferrarri FXX Exclusive enjoys a slick design, with aerodynamic spoilers and side skirts, alongside 12-inch lightweight metal wheel rims, ultra flat, "x-treme" tyres, soft moulded sport seat and a soft, leather-effect steering wheel – and all licensed with the unmistakeable images and stylings of Ferrarri itself.

The engineering is no less impressive, with seven gears and twin disk brakes on the rear wheels. As if this was not enough, the digital dashboard computer enables the intrepid driver to track their lap times and top speeds with great accuracy.

This go kart cannot fail to set the heart racing – when its lucky recipient sees it for the first time, and especially when it is ridden. It offers thrills, spills, and years of satisfaction.
RECOMMENDED RETAILERS

Amazon
The world's most famous online retailer sells an unparalleled selection of toys.
Buy the Ferrari FXX Exclusive Pedal Go-Kart now >>