Get Up & Gogo, My Walkin Pup Pet
No customer reviews yet. Be the first.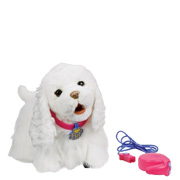 Taking animatronics to new levels of sophistication, FurReal Friends Get Up & Gogo walking pet puppy is one of the cutest little toys you've ever seen. Her gorgeous white fur makes her look so appealing and children just love the way she speaks and sits on the command of her owner.
Obedience is built in to this beautiful little pup. Just clap your hands and she comes walking towards you whilst wagging her tail – she's so pleased to be wanted. Kids can also download the FurReal Friends app for Android or Apple smart phones and learn how to virtually look after their new found friend.
FurReal Friends Get Up & Gogo is designed for little girls aged 4 and over.
RECOMMENDED RETAILERS

Amazon
The world's most famous online retailer sells an unparalleled selection of toys.
Buy the Get Up & Gogo, My Walkin Pup Pet now >>