Hello Barbie Interactive Doll
No customer reviews yet. Be the first.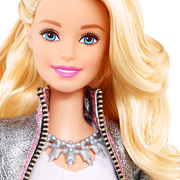 In a digital controlled world it's hardly surprising that girls fashion icon Barbie doll gets an interactive makeover. Hello Barbie is the first in a series of self-communicating versions of the world's favourite doll.
By using speech recognition technology supplied by US based ToyTalk, a spokesperson for makers Mattel said, "The number one request we hear from girls around the world is that they want to have a conversation with Barbie. Now, for the first time ever, Barbie can have a two-way conversation."
Hello Barbie can also tell jokes and stories as well as play interactive games with her owner. Cleverly designed housings in Barbie's legs conceal the batteries which also give the doll excellent stability when standing. Connect to the home wi-fi so that the doll can access the internet to answer questions or even learn her owners' likes and dislikes. She'll even learn favourite colours, hair styles and even best holiday destinations.
The doll's necklace cleverly conceals a microphone and miniature speaker as well as a pair of brightly coloured LED lights. A button on her belt turns the doll on and off and a concealed socket enables Hello Barbie to be charged from the supplied mains adaptor. Fans of the original Barbie needn't fear as Mattel continues to develop new themes and clothes styles in the traditional way.