Jolly Octopus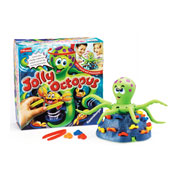 Designed specially for UK consumers, the superb games manufacturer, Ravensburger launched a wildly funny game called Jolly Octopus. Toy Fair gave the game a vote of confidence in January 2010 by awarding it the title of "Best New Game".
Jolly Octopus features a bright green octopus with spinning tentacles. The aim of the game is for each player to remove their coloured crabs in the quickest possible time using just a pair of yellow tongs.
Sounds easy right? Well, not only are the arms of the octopus spinning all over the place (making your life very hard indeed!) but if you happen to accidently touch the arms of the octopus with your tongs, then he will stop spinning and start giggling. The game has a couple of different play settings - so as you get better, the game becomes harder.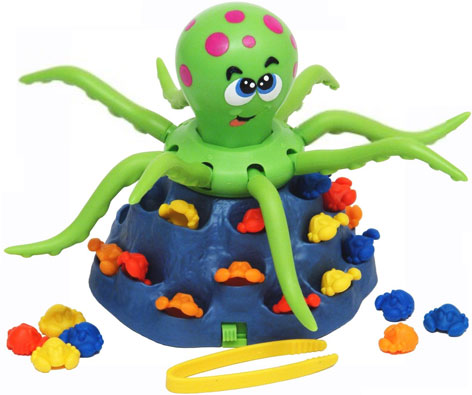 Jolly Octopus is very reminiscent of classic games like Buckaroo and Operation - but we think Ravensburger have given this concept a nice twist and we're sure that kids of all ages will love playing it.
RECOMMENDED RETAILERS

Amazon
The world's most famous online retailer sells an unparalleled selection of toys.
Buy Jolly Octopus now >>