My Keepon
No customer reviews yet. Be the first.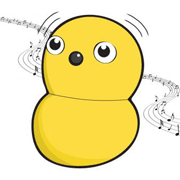 Having seen significant success with Dave the Funky Shoulder Monkey, Wow Stuff reckon they have another smash hit on their hands with My Keepon, a loveable, bright yellow robot that interacts, shakes and dances!
Using technology that was created by BeatBots LLC, the My Keepon robot was originally designed as a high-level social development tool to aid autism therapy. The partnership with Beatbots and Wow Stuff however, makes possible the release of a toy version which contains some of the most engaging and entertaining features of My Keepon's more sophistiated older brother.

As well as reacting to your touch, the very cute My Keepon robot is able to identify the rhythm in a song and jiggle about to the beat! This little chap really has the music in him... and that's partially why he was awarded the "Best Science Toy" at the US TOTY toy awards.
RECOMMENDED RETAILERS

Amazon
The world's most famous online retailer sells an unparalleled selection of toys.
Buy My Keepon now >>