LeapPad 3
No customer reviews yet. Be the first.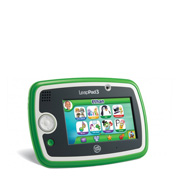 More powerful than previous models, LeapPad3 is an incredible children's tablet created by the well-respected LeapFrog company. Featuring fast performance and a 5" capacitive touchscreen, the built-in 4GB memory can even store up to 20,000 photos taken by the two mega pixel front or rear cameras!
Parents worries over internet safety for their little ones can be put aside by the LeapPad's Zui powered LeapSearch system. This ensures that kids can only access pre-screened and suitable content. A wireless facility lets children chat to their friends on similarly enabled devices such as the LeapPad Ultra XDi, or even have even more fun on a number of different multi-player games.
Designed for children between 3 and 9 years old, this device can also access the Learning Library of games, apps, music and books. Core subjects such as science, maths, English and creativity are all covered in the educational section which can make recommendations based on a child's age and ability.
The tough exterior shell of LeapPad3 is designed to take severe knocks and bangs without any damage. Supplied in pink or green cases, there's a LeapPad product for almost any age or budget. A Lithium Ion battery holds charges for longer, and should comfortably exceed 6 hours play on a single charge.
RECOMMENDED RETAILERS

Amazon
The world's most famous online retailer sells an unparalleled selection of toys.
Buy the LeapPad 3 now >>