LeapFrog LeapReader
No customer reviews yet. Be the first.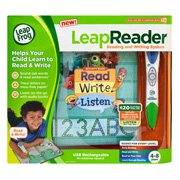 Launching in the UK on July 15th 2013 and designed for children aged 4 to 8, LeapFrog's LeapReader is an electronic writing and reading system. Supplemented by maps, flash cards, books, music and trivia, LeapReader's content allows parents to personalise the best way in which their child learns to read, write and listen.
Reading is accomplished by using the 'Learn to Read' feature. This helps children gradually build sentences through listening to words, and comprehension follows as a result. Arguably the cleverest part of the whole system is the 'Learn to Write' section. As well as audio education, the workbook features innovative and mess-free 'Learning Paper'. This has ink cleverly embedded within each page to help kids create a sequence of writing strokes which leads to improved fluency.
Learn through Listening features songs and audio books that help kids improve their comprehension as well as learning the words to their favourite songs. LeapReader has an impressive memory capacity that can store up to 175 songs or 40 audio books, and is also compatible with most of LeapFrog's library of Tag books.
Dr. Jody Sherman LeVos, leader of LeapFrog's Learning Team said: "We know that children learn to read and write better when experienced together. LeapReader allows these skills to be practiced concurrently using physical books along with related skills like listening comprehension. With LeapReader, as children touch letters to hear their sounds and listen to words pronounced and sounded out, they build phonics and word recognition skills. Additionally, as they trace and write letters, they learn about proper stroke order and writing fluency."
RECOMMENDED RETAILERS

Amazon
The world's most famous online retailer sells an unparalleled selection of toys.
Buy LeapReader now >>