Magnitude Trampolines
No customer reviews yet. Be the first.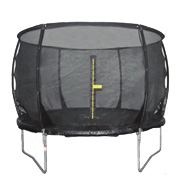 As outdoor toy specialist manufacturers, Plum Products ranges of premium trampolines just get better and better each year. Their superb Magnitude trampolines are sold complete with their unique 3G enclosures which have cleverly designed curves to keep bouncing children away from the springs.
Sold in 8ft, 10ft, 12ft and 14ft versions, Plum's Magnitude trampolines are some of the best on the market. The addition of the strong Tramp Klamp bracket that surrounds the gap between the legs and the frame gives extra strength and durability as well as minimising the possibility of rust damage.
For parents wanting the best trampoline that money can buy, Plumís Magnitude trampolines with 3G enclosures take some beating.
RECOMMENDED RETAILERS

Amazon
The world's most famous online retailer sells an unparalleled selection of toys.
Buy Magnitude Trampolines now >>