Shark Mania
No customer reviews yet. Be the first.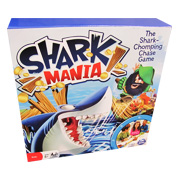 Shark Mania, the fast moving action game from Spin Master features a ferocious people-munching shark! Players are known as pirates. Their sole aim is to grab as much gold as possible and get to Shipwreck Island before all the other competitors.
The only thing that gets in their way is the ferocious shark who frustratingly crashes through your path to victory at the last moment! This highly entertaining and amusing game is designed for kids aged 6 and over.
RECOMMENDED RETAILERS

Amazon
The world's most famous online retailer sells an unparalleled selection of toys.
Buy the Shark Mania now >>