Monster Marbles
No customer reviews yet. Be the first.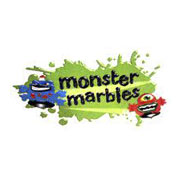 If you are used to seeing long legged monsters creating havoc and mayhem around the place, nothing will have prepared you for Monster Marbles. With loads of different monsters to collect, there's a cleverly concealed marble or ball bearing in the base that sets these little beasts rolling all over the place. Created by WowWee, Monster Marbles can be propelled over ramps or just crashed into each other for hilarious fun!
Supplied with chalk to mark out games on a path, playground or any other smooth area, Monster Marbles also have a special carrying case for kids to take around their impressive collections. Suggested games include Monster Bash, Monster Shuffle, Long Shot and Target Practise, although plain old marble rolling is almost as much fun.
Featuring an eclectic mix of colours and ugly beasts, (some with three pairs of arms or one eye), Monster Marbles are a great kids collectable range of toys that can be swapped like trading cards. Whilst boys of 5 and over get the most fun out of these gross little beasts, there's nothing to stop the girls joining in the fun as well.