Trivial Pursuit Party Game
No customer reviews yet. Be the first.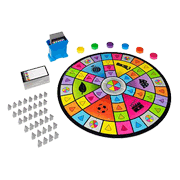 First invented in 1979, Trivial Pursuit has undergone almost as many transformations and variations as Monopoly. Trivial Pursuit Party Game changes all the rules and looks again with this new faster version. Whilst the aim is still to fill your playing piece with all six wedges, any space on the revised circular playing boards is open to win one.
Players can even ask a friend if they're unsure of the answer – if it's correct you both gain a wedge! Being sharp witted is almost as important as having the knowledge to correctly answer the questions! Faster gameplay and a speedier end to each game makes this version ideal for family or friends parties.
Trivial Pursuit Party Game has a recommended player age of 16 or over and can be played by 3-6 people.
RECOMMENDED RETAILERS

Amazon
The world's most famous online retailer sells an unparalleled selection of toys.
Buy the Trivial Pursuit Party Game now >>