PL-UG
No customer reviews yet. Be the first.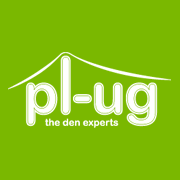 Taking the concept of building play houses and tents to a new level, the British designed PL-UG den system consists of just seven well thought out modules. These include rods, clamps, connector discs, hooks and pegs that can be fixed to a huge variety of household objects like chairs, tables and window ledges. Once the frame has been built, a simple sheet can be draped over the top and hey presto – the den is complete! Kids mustnít forget to put up the ĎKeep Outí sign thatís included in every pack.
Easy to build and dismantle again, there are three sets to choose from. The basic Entry kit includes the basic PL-UG parts plus the sign, whilst the Mid Kit comes with some extra components and a specially designed sheet covered in blue stars. For maximum play value parents should opt for the Premium Kit that offers a bigger selection of parts to build even more complex den structures.
RECOMMENDED RETAILERS

Amazon
The world's most famous online retailer sells an unparalleled selection of toys.
Buy the PL-UG Dens now >>