Raa Raa The Noisy Lion Playset
No customer reviews yet. Be the first.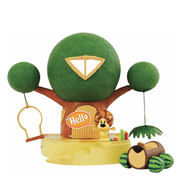 As the showcase toy in Tomy's Raa Raa The Noisy Lion range, the Treehouse Playset is this fantastic looking jungle-themed playset. Featuring the tree that appears in nearly every episode, the playset has plenty of working features like the swing, sun canopy and sounds too.
A plastic figurine of Raa Raa is included, as well as his favourite log car transport! Children can put the model of Raa Raa on a special spot, and he will speak lots of phrases from the show! Another spot makes the palm leaves raise up, whilst the garage spot makes the Cubby Buggy start up. Other Raa Raa toys already available include the Roaring Raa Raa soft toy which may look soft and very cuddly, but is actually concealing an almighty ROAAAAAR!!!
RECOMMENDED RETAILERS

Amazon
The world's most famous online retailer sells an unparalleled selection of toys.
Buy the Noisy Lion Playset now >>