LEGO Minifigures
No customer reviews yet. Be the first.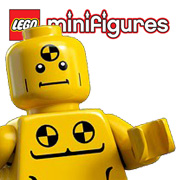 LEGO Minifigures were first introduced into a few specific sets by the famous Danish toy company in 1978. The very earliest examples didn't have moving legs or arms and had simple facial decoration usually topped by a hat or peaked cap.

As improved methods of injection moulding were developed, LEGO took full use of this technology to incorporate at least six points of articulation into their models. Colour printing techniques also gradually improved and allowed far more detail to be applied to the plastic parts.
It wasn't until 2010 that LEGO launched the first series of their hugely successful Minifigures packed in blind sealed bags. The company took advantage of the huge interest in collecting these models by children and adults, and Series 1 was sold out within days of its launch.
Clever individuals figured out a way to tell which figure was in each sealed bag, thereby destroying the element of surprise. By Series 4 LEGO were on top of this situation and revised their packaging codes.
Further series were introduced on a regular basis, each set of 16 figures being brand new to the collection and never seen before. Special Minifigures series celebrating events such as the release of The LEGO Movie were also massively successful. Whilst estimates vary, general opinion seems to think that the company have produced in excess of 4 billion Minifigures... and counting!