ThingMaker 3D Printer
No customer reviews yet. Be the first.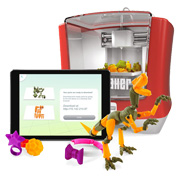 Unsurprisingly, the first toy company to design and bring to market an affordable childrenís 3D printer was Mattel. Launched at the New York Toy Fair in February 2016, their ThingMaker 3D printer retails in the UK at around £250. The accompanying ThingMaker Design app was designed in conjunction with Autodesk, a world leader in 3D design software.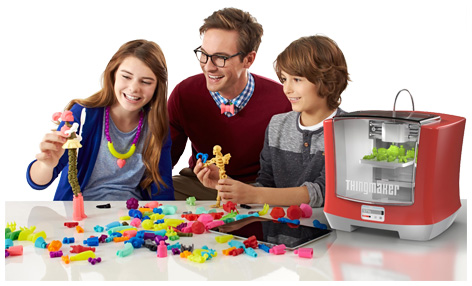 This easy to use app is the key to enabling kids to quickly master the design techniques that are required to begin making their own toys. With simple-to-follow tutorials and a selection of starter templates, the app has already been described by early testers as, fast, easy to navigate and ridiculously intuitive. Available in iOS and Android formats, children can use almost any tablet device to design their masterpieces.
Many different parts can be printed to create a unique robot, train, necklace, building or dinosaur. In fact, allow your imagination to run wild and you could make pretty much anything! The ThingMaker 3D Printer uses a hard PLA filament as the base material and this can be supplied in dozens of different colours. Simple press-fit ball and socket joints facilitate the easy assembly of parts once printed.
Safety of young users is paramount of course which explains why the printersí door automatically locks when in use. The clear front window however, enables kids to see their creation being produced. Printing time is variable according to the complexity of the object. Mattel say it can be anything from thirty minutes to eight hours.
A representative of Mattel said; "In todayís digital age, itís more important than ever for families to transcend the digital world and make their ideas real. ThingMaker pushes the boundaries of imaginative play, giving families countless ways to customize their toys and let their creativity run wild".