Tomica Metro City Set
No customer reviews yet. Be the first.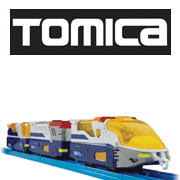 Tomica from Tomy is ideal for boys who love to build road and rail sets, and who enjoy letting their imagination run wild! Made up of everything you'd expect to find in a real life city - hi-tech trains, petrol stations, pizza places, Fire Station, Police HQ and a cool range of die-cast replica cars - the brilliant Tomica will keep kids entertained for hours.

With Tomica, children can create they own 'World of Imagination' and watch trains speed around the track and cars cruise around the city together. And if the streets get too busy, simply build a railway to tower above the mini-metropolis, reaching as high as their imagination will let them.
The huge Metro City Set includes a cool metro train with lights that illuminates the underground tunnels as it travels beneath the Tomica streets. Watch in amazement as trains travel above ground and underground simultaneously, or zoom over the crossing bridge. You can even whizz round the city in the transporter bus.
The Starter Rail Set is a great place to start your Tomica world. The set includes a circular iconic blue track layout, a hi-tech two-speed train, rail crossing and a cool clear tunnel.

RECOMMENDED RETAILERS

Amazon
The world's most famous online retailer sells an unparalleled selection of toys.
Buy the Tomica Metro City Set now >>