Trunki Travel ToyBox
No customer reviews yet. Be the first.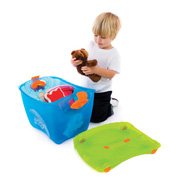 Having been famously rejected from the Dragon's Den, Trunki is a true British success story. Starting with a simple but ingenious ride-on suitcase that has since sold in its thousands in over 40 countries, Trunki continues to design and develop innovative products of which their Travel ToyBox is a perfect example.
By taking the boring toy storage container and applying some 'blue sky thinking' of how it could be improved, Trunki have yet again hit upon a real winner.

Once all the toys are safely stored inside and the lid clipped on, kids just turn the whole thing over and use it as a wheeled trolley. They can sit on it, pull it or even rock on it; such is the versatility of the design. Made of tough but lightweight plastic, the Trunki Travel ToyBox has the perfect dimensions to fit in the car boot or even in the passenger footwell.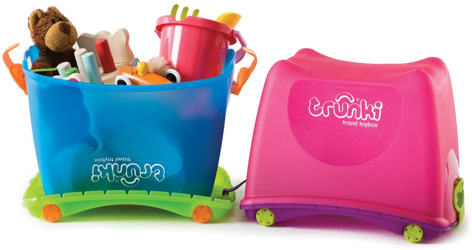 Kids love their Travel ToyBox almost as much as their toys. If friends or siblings also have one they can be connected together to form a train, or used for races round the house! Available in the Trunki's classic blue or pink, the contrasting wheeled lids give this product a real touch of class.
RECOMMENDED RETAILERS

Amazon
The world's most famous online retailer sells an unparalleled selection of toys.
Buy the Trunki Travel ToyBox now >>