Velocity
No customer reviews yet. Be the first.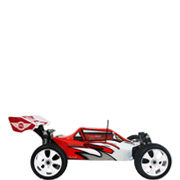 Not only is Velocity the world's fastest radio controlled car – it's probably also the most expensive! Already clocked at 127mph, this is one mean speed machine.
Using a state of the art brushless motor and a sophisticated digital speed controller, Velocity has a 30v polymer battery the size of a standard house brick – that's big and heavy! Driving time is 20 minutes from a one hour charge.
Made by Flying Gadgets, the vehicle attracts huge international interest wherever it goes and a massive pre-order book has guaranteed a sell out situation. Giant strategically placed cooling vents prevent the motor from overheating, and the highly flexible wheels are designed to safely expand as the speed and heat builds up.
The company also makes one of the fastest model boats around. Operating with a 26cc petrol engine, the Aqua Mania High Speed RC Boat has achieved a maximum speed of 110kmh – that's a lot of muscle for a toy model.