X-Voice Quadcopter
No customer reviews yet. Be the first.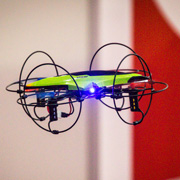 Utilising sophisticated voice control technology, Flying Gadgets X-Voice Quadcopter is the first toy drone in the world to use this advanced system. Sixteen different languages are programmed into the drone, and these can even understand localised dialects and accents!
Users wear a microphone enabled headset and speak their commands such as take-off, land and dance or even flip over! A strong but flexible plastic cage surrounds each of the four propellers to help prevent damage in case of an accident.
A hand controller is included in the box to make fine tuning adjustments during flight, and a rechargeable battery powers the model. X-Voice Drone can be bought from several online sellers as well as great independent toy shops.
RECOMMENDED RETAILERS

Amazon
The world's most famous online retailer sells an unparalleled selection of toys.
Buy the X-Voice Quadcopter now >>