BLOCK LOCK Toy Glue
No customer reviews yet. Be the first.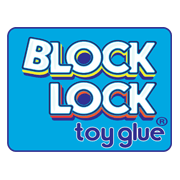 Address
PO Box 183, Portishead, Bristol, BS20 1BB
Telephone
07958778626
Contact
Send an email to BLOCK LOCK Toy Glue now >>
About
BLOCK LOCK Toy Glue is a removable glue that helps strengthen builds and reduce frustration from breakage during play. The glue can be used on bricks, blocks and toys such as LEGO, Playmobil, Kinex, Mega Bloks and many other construction toys that can require increased stability for full play.
BLOCK LOCK is a removable glue, and works by improving the grip between pieces. It is removable in warm water and in a washing machine and will not bond to the toy. It has been developed from food grade and bio-degradable ingredients with safety experts, independent testing facilities and manufacturers.
BLOCK LOCK is designed to be used by children 5+ on their own toys as they build or it can be applied post-build to strengthen certain components that keep failing during play. The entry product is a 50ml spout pouch of hydrated glue product. The glue can also be purchased in a Starter Kit which contains 30ml of glue and additional items such as a wash-proof SWASH bag and an Application Kits - for easy application. This contains a wand, tray and thickness scraper.
BLOCK LOCK Toy Glue is simple and easy to use and is a perfect addition to any brick retail offering. The product requires only clip strip merchandising and minimal space in store.
BLOCK LOCK Toy Glue is a specialist toy manufacturer based in Bristol.