Playfull Toy Shop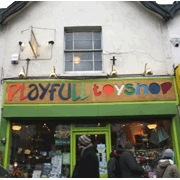 Address
87 Gloucester Road, Bishopston, Bristol, BS7 8AS
Telephone
0117 944 6767
About
Located in the heart of Bishopston, the Playfull Toy Shop is situated slightly down from BORN and Totally Toys on Gloucester Road - Bristol's best shopping street.
Spelt "Playfull" rather than "Playful", this toy shop sells a great range of quirky children's products including toys, games and books. Wooden toys feature highly - with a particularly comprehensive range of Plan City Toys - a brand that specialises in the creation of ethically-sourced and design-led toys which look great and are brilliantly made.
As with most other shops on Gloucester Road, Playfull is an independent retailer, ensuring that you will be able to shop for the kind of products that you will struggle to find in any of the major-chain toy stores. The shop itself has a welcoming layout and friendly staff. It has the feel of a 'real' traditional toy shop - with toys stacked from floor to ceiling and plenty of products on display for a test-drive before buying.
Playfull Toy Shop is a Bristol toy shop that specialises in wooden toys.