High Wycombe Toy Shops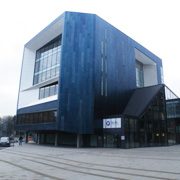 High Wycombe in Buckinghamshire still uniquely retains the ancient tradition of weighing the new mayor before and after office! Boasting no less than three modern shopping centres - Octagon, Eden and Chiltern - High Wycombe shoppers are spoilt for choice, and virtually all major multiple retailers are represented in the town. The toy shops in High Wycombe all sell a terrific variety of toys, games, models, dolls, soft toys and gadgets to entertain children of all ages.
Skyline Models are the experts in radio controlled model flying helicopters. An Early Learning Centre is in the town, and some interesting independent High Wycombe toy shops are always be able to offer something a little bit different. Wycombe Models & Hobbies in Gomm Road sell a comprehsive choice of construction kits and accessories, whilst the Toy and Model Centre in Desborough Road sells many traditional wooden toys as well as some of the up-to-date collectable toys that kids swap with their friends.
POPULAR RETAILERS
31-32 High Street, High Wycombe, Buckinghamshire, HP11‎
0845 165 7113‎
Unit 49, Eden Shopping Centre, High Wycombe, Buckinghamshire, HP11 2BY
01494 532415
13 The Chilterns, High Wycombe, Buckinghamshire, HP13 5ES‎
01494 462400‎
Eden Shopping Centre, High Wycombe, Buckinghamshire, HP11 2HT‎
01494 531494‎
Skyline House, Wycombe Road, High Wycombe, Buckinghamshire, HP14 3XB‎
01494 484 545‎
OTHER RETAILERS
Childs

36 Park Parade Centre, Hazlemere, High Wycombe, HP15 7AA
01494 711425‎
Toy and Model Centre

202 Desborough Road, High Wycombe, Buckinghamshire, HP11 2 TE
Wycombe Models & Hobbies

Gomm Road, High Wycombe, Buckinghamshire, HP13‎ 7DJ
01494 447 941‎