Channel Islands Toy Shops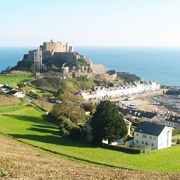 Whether you live in the Channel Islands or you are one of the thousands of visitors each year, you will not have to go far to find a toy shop selling all the latest toys, games and electronic gizmos that are now available.
The capital towns of St.Helier (Jersey) and St.Peter Port (Guernsey), both have vibrant shopping streets with an interesting mix of multiple and independent stores, including some excellent toy shops.
Although tourism is the largest industry, both of the largest islands are home to financial services companies and a small amount of light industry, as well as some horticulture. In St.Helier in Jersey there are several choices of excellent toy shops. These include the independent Bambola with two toy shops, and a branch of The Entertainer can be found in Bath Street as well as a selection of the multiple chains.
Changing islands to Guernsey, in St.Peter Port there is Toymaster member in the form of Aladdin's Cave, and a large toy department in the famous Creaseys store that is part of the Associated Independent Stores buying group.
FEATURED RETAILERS

A retailer of exciting ranges of gadgets and accessories to suit most gaming platforms.
Read more about Channel Goods >>
POPULAR RETAILERS
6 The Parade, St Helier, Jersey, Channel Islands, JE2 3QP
01534 722489
Le Gallais Building, 64 Bath Street, Jersey, Channel Islands, JE1 1BR
01534 724339
OTHER RETAILERS
Channel Island Toys

25/27 Victoria Road, St Peters Port, Guernsey, Channel Islands, GY1 1HU
01481 723871
Creaseys

9-25 High Street, St. Peter Port, Guernsey, Channel Islands, GY1 2JZ
01481 720203