Warrington Toy Shops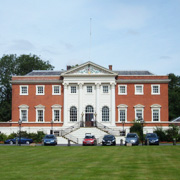 Warrington combines the charm of traditional country villages and breathtaking countryside with modern business and hi-tech industry. The city's town centre is fast becoming a popular shopping destination, with a wide selection of toy shops to choose from. These range from quirky, niche shops that specialise in hard-to-find or obscure items, to more 'general' High Street stores like The Entertainer and Toys R Us that stock today's most popular and sought-after brands.
Unusually, Warrington has three excellent model shops. Aviation Direct are in Colwyn Close and specialise in military and civilian aircraft construction kits. Railway Junctions in Orford Lane offer a fantastic choice of model railway locos, coaches, rolling stock and buildings, as well as track and scenery to help build a realistic layout. Revolution Models in Bridge Lane are the experts at radio controlled kits of helicopters and fixed wing aircraft. They also carry an impressive selection of engines, batteries, fuel and many other accessories.
POPULAR RETAILERS
Golden Square, Warrington, Cheshire, WA1 1QB
01925 232 680
Unit 36, Golden Square, Warrington, Cheshire, WA1 1QB
0844 693 1456
OTHER RETAILERS
Aviation Direct

20 Colwyn Close, Warrington, Cheshire, WA5 9SL
01382 524447
Gamestation

Golden Square Centre, Old Market Place, Warrington, Cheshire, WA1 1QB
01925 259447‎
Railway Junctions

187 Orford Lane, Warrington, Cheshire, WA2 7BA
01925 632209
Revolution Models

Unit 13 Riverside, Bridge Lane, Woolston, Warrington, Cheshire, WA1 4BA
01925 812359