Brighton & Hove Toy Shops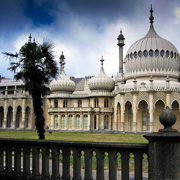 Brighton is situated on the south coast of England, and together with Hove, forms the city of Brighton and Hove. Brighton is one of the most celebrated seaside resorts in the UK with some superb shopping areas including The Lanes where you can find an eclectic mix of, well, just about anything!
There are plenty of Brighton toy shops to choose from. Whilst the Churchill Square shopping centre provides shoppers with a generous selection of High Street shops, it's elsewhere in the city where you'll find little gems selling toys and nursery products such as LiliMay Baby.
FEATURED RETAILERS
Marble runs and accessories including wooden and award winning styles.
Read more about The Marble Run Shop >>
Specialises in wooden toys for the under fives.
Read more about Wooden Toy Shack >>
POPULAR RETAILERS
Unit 56, Churchill Square Shopping Centre, Brighton & Hove, East Sussex, BN1 2RG
01273 771 557
3 Morley Street, Brighton, East Sussex, BN2 9RA
01273 677748
88-90 Churchill Square, Brighton & Hove, East Sussex, BN1 2TF
01273 828490
24 Kensington Gardens, Brighton, BN1 4AL
01273 696068
50 Blatchington Road, Hove, East Sussex, BN3 3YH
01273 770449
Unit 86. Lower Level, Churchill Square, Brighton & Hove, East Sussex, BN1 2TF
0844 800 5148
Goldstone Retail Park, Newtown Road, Brighton & Hove, East Sussex, BN3 7PN
OTHER RETAILERS
Gamestation

69 Western Road, Brighton & Hove, East Sussex, BN1 2HA
01273 220029‎
Potters Children Store

41 Meeting House Lane, Brighton, East Sussex, BN1 1HB
01273 820900
Strawberry Children's Toys Ltd

2 Bates Road, Brighton, East Sussex, BN1 6PG
01273 330743
Wigwam Toys

140 Preston Drove, Brighton, East Sussex, BN1 6FJ
01273 505504