Colchester Toy Shops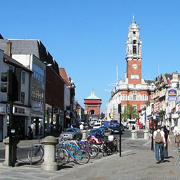 As Britain's oldest town, Colchester is a popular tourist destination with plenty to see and do. The town centre is a welcoming place with an extensive range of shops including multiple and independent retailers. There are some interesting model and toy shops in Colchester - and these blend well with the fashion and food sellers. Colchester's streets are full of everything the shopaholic could want - including several bustling shopping precincts.
The narrow streets are supplemented by an eclectic mix of cafes, bars and restaurants, as well as several indepedent toy shops like It's All Fun & Games and Higgywags that serve the town well for toys, games and fancy dress products. Colchester is also home to some very niche toy shops such as Colchester Dolls Houses on Trinity Street that sells everything you could possibly want relating to dolls and dolls houses.
POPULAR RETAILERS
Unit 2, 17-33 Long Wyre Street, Colchester, Essex, CO1‎
0845 165 7093‎
2 Culver Square, Colchester, Essex, CO1 1JQ
01206 574664
Culver Square Shopping Centre, 8 Shewell Walk, Colchester, Essex, CO1 1WG‎
01206 546610‎
2 Short Wyre Street, Colchester, Essex, CO1 1LN‎
01206 767279‎
Eld Lane, Colchester, Essex, CO1 1LN
01206 560583
The Old Bakery, High Street, Dedham, Nr. Colchester, Essex, CO7 6HA
01206 323 172
OTHER RETAILERS
Ace Comics

42 Culver Street East, Colchester, Essex, CO1 1LE
01206 561912
Bear Shop

Mercantile House, 3 Sir Isaacs Walk, Colchester, CO1 1JJ
01206 577345
Colchester Dolls Houses

13 Trinity Street, Colchester, Essex, CO1 1JN
01206 548854
Gamestation

46-48 Long Wyre Street, Colchester, Essex, CO1 1LJ
01206 368377‎
Higgywags

5-7 Winnock Road, Colchester, Essex, CO1 2BG
01206 508 508
The Wooden Toy Shop

45 Sir Isaacs Walk, Colchester, Essex, CO1 1JJ‎
01206 574200‎
Tozo Hobbies & Toys

22 Sir Isaacs Walk, Colchester, CO1 1JJ
01206 765966‎