Toys 'N' Tuck
No customer reviews yet. Be the first.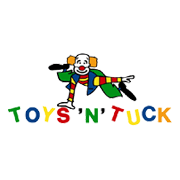 Address
1 Queens Road, Southend-on-Sea, Essex, SS1 1LT
Telephone
01702 346234
Website
www.toysntuck.co.uk
About
Toys 'N' Tuck is based in Southend on Sea in Essex, and moved in 2007 to its current location at the top end of the High Street. The business also has a dedicated website for customers to purchase toys from a wide range of categories. These include arts & crafts, collectables, soft toys and jigsaw puzzles.
This store stocks a wide variety of products which can entertain everyone from children to adults. Locating the product you are looking for should be simple with the clean layout of the store, however, if customers prefer a more personal touch they should not hesitate to ask for assistance from any one of the polite and well trained staff.
All of the major brands such as Playmobil, Lego, Mellissa and Doug, Sylvanian Families, Orchard Toys and Hornby take pride of place in this store with large displays, allowing the customer to see every product. To make shopping with your children that more hassle free, situated at the back of the store are some toys set up to keep the little ones occupied.
Toys 'N' Tuck is a Southend-On-Sea toy shop that specialises in construction toys.