Southend-On-Sea Toy Shops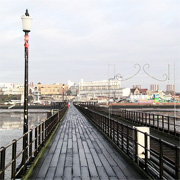 Situated on the Essex coast, Southend-on-Sea is probably best known for its long pier which stretches out into the outer reaches of the Thames estuary. It has a thriving High Street shopping centre, with the Victoria and Royals shopping centres at each end. Several specialist independent toy shops such as Toys 'N' Tuck are in the area, together with the usual mix of multiple retailers such as Games Workshop and Early Learning Centre.
Two whackily-named kids clothes shops trade in Southend-on-Sea. Kidz Klobba in Plaza Way and Kutie Babies in Woodgrange Drive offer some great choices for parents who are looking for some alternative kids clothes labels to those normally found in the High Street.
FEATURED RETAILERS

The business also has a dedicated website for customers to purchase toys from a wide range of categories.
Read more about Toys 'N' Tuck >>
POPULAR RETAILERS
123, Thurrock Lakeside Shopping Centre, West Thurrock, Essex, RM20 2ZG‎
01708 890370‎
415, Thurrock Lakeside Shopping Centre, West Thurrock, Essex, RM20 2ZJ‎
01708 867133‎
OTHER RETAILERS
Kidz Klobba

2 Plaza Way, Southchurch Road, Southend-On-Sea, Essex, SS1 2PU
01702 616005
Kutie Babies

194 Woodgrange Drive, Southend-On-Sea, Essex, SS1 2SJ
01702 616170