Toy-Bocs-Teganau
No customer reviews yet. Be the first.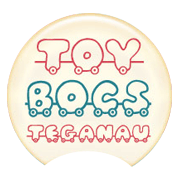 Address
107 High Street, Porthmadog, Gwynedd, LL49 9HA
Telephone
01766 512939
Contact
Send an email to Toy-Bocs-Teganau now >>
About
Toy Bocs Teganau (Bocs teganau is the welsh word for toy box) is a family run business including a nine year old daughter who has put herself in charge of market research! Based in Gwynedd, they offer a wide range of quality branded toys and games for all ages from 3 months to adult.
Some of the well known brands include Tomy, Fisher Price, K'nex, Mattel, Hasbro, Lamaze, Chicco, Wow Toys and Playmobil. Toy Bocs Teganau adds new lines as they become available and they are stockists of a wide range of games for all ages from preschool to adult after dinner games.
Research has shown more and more families are fed up with their kids sitting in front of a TV monitor or hand held game device and are returning to traditional family games such as Monopoly, Cludeo, chess, draughts, Mouse Trap and other well know family favourites. They also sell a wide range of children's fancy dress costumes from Travis Designs and many other manufacturers.
Toy-Bocs-Teganau is a Gwynedd toy shop that specialises in games.