Basingstoke Toy Shops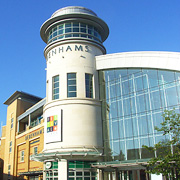 With a population of 150,000 people, Basingstoke is now an affluent town with low unemployment and an excellent selection of shops - including several quirky independent toy shops. In 2002, the new Festival Place Shopping Centre was opened, which is home to all the main High Street stores such as Build-A-Bear Workshop and Hawkin's Bazaar.
If you're prepared to travel a little further afield however, you will have no problems finding some terrific little independent toy shops such as The Faraway Tree in Overton and Loddon Valley Garden Toys in Old Basing. This family-run Basingstoke toy shop specialises in TP activity toys and products from Radio Flyer Inc.
POPULAR RETAILERS
Unit 17A, Festival Place, Basingstoke, Hampshire, RG21 7BE
01256 477 959
Unity House, Telford Road, Basingstoke, Hampshire, RG21 6YJ
Unit 59, Festival Shopping Centre, Basingstoke, Hampshire, RG21 7BF
0844 573 4510
38 Byfleet Avenue, Old Basing, Basingstoke, Hampshire, RG24 7HR
01256 477656
Unit 4, Wallop Drive, Basingstoke, Hampshire, RG22 4TW
01256 363737
16/18 Westminster House, Potters Walk, Basingstoke, Hampshire, RG21 7GQ
01256 814606
OTHER RETAILERS
Gamestation

Mayfair House, Festival Place, Basingstoke, Hampshire, RG21 7JT
01256 326 735‎
Loddon Valley Garden Toys

38 Byfleet Avenue, Old Basing, Basingstoke, Hampshire, RG24 7HR
01256 473546