Lula Sapphire
No customer reviews yet. Be the first.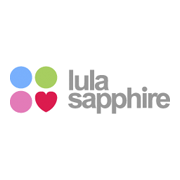 Address
3 King Street, Clitheroe, Lancashire, BB7 2EN
Telephone
01200 429720
Contact
Send an email to Lula Sapphire now >>
About
Lula Sapphire is a small, independent shop in Clitheroe, Lancashire, focusing mainly on selling wooden toys and clothing for infants from new born to 6 years of age.
The shop has a sensory room, full of colourful bright lights, tall bubble tubes with fish and a vibrating light up ball pit. This hosts weekly play groups and can also hold small functions such as birthday parties. The sensory room also has toilets, a kitchen and changing facilities which can be used by any customers.
Lula Sapphire encourages anyone to use the sensory room that would benefit from its use. There are a few autistic visitors and some deaf children who thoroughly enjoy their visits.
If you are nearby the staff will welcome you in. Alternatively you can take a look at their website and Facebook pages. Lula Sapphire holds good stocks of Melissa and Doug toys together with Hape wooden toys including their train sets. They also sell Nicko Balance Bikes as well as luxury clothes from Lily and Sif and Toby Tiger as well as regular unbranded clothing.
Lula Sapphire is a Lancashire toy shop that specialises in baby & toddler toys.