Bicester Toy and Model Shops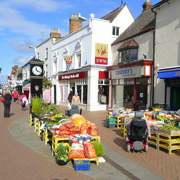 Home to the famous Bicester Outlet Shopping Village, Bicester is one of the fastest growing market centre towns in Oxfordshire. The centre is in complete contrast to the Outlet area with its old buildings and interesting streets.
New Mums and Dads will appreciate the nursery products on offer at Bump & Beyond in Market Square. Maternity clothes, prams, pushchairs, cots and baby toys are just a few of the products on offer.
Toys and Nursery in Sheep Street live up to their name by offering their customers a good choice of prams, pushchairs and toys for the youngest members of the family. Outdoor toys, action figures, board games and childrenís ride-on toys can all be found in one of Bicesterís toy shops.
OTHER RETAILERS
Bump & Beyond

12 Market Square, Bicester, Oxfordshire, OX26 6AD
01869 240331
Petit Bateau

31 Pingle Drive, Town Centre, Bicester, Oxfordshire, OX26 6WD
01869 244336
Tish Tash Toys Bicester

154 Buckingham Crescent, Bicester, Oxfordshire, OX26 4HB
01869 600965
Toys & Nursery

66-68 Sheep Street, Bicester, Oxfordshire, OX26 6LG
01869 323946