The Toy Works
No customer reviews yet. Be the first.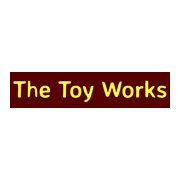 Address
The Old Village Bakery, Melmerby, Penrith, Cumbria, CA10 1HE
Telephone
01768 881249
Website
www.thetoyworks.co.uk
About
The Toy Works in Melmerby near Penrith is a well-established shop selling high quality traditional wooden toys. The owner is always on hand to advise and assist customers with any questions about the products and the suitability to fit their requirements.
The business was established in 1985 by the owner who is a timed served carpenter and joiner. He tried to find a particular toy for his toddler son, and having failed to locate the toy he set about designing one himself and from that the business was born. The Toy Works stocks a wide range of quality wooden toys including toy farms, castles, dolls houses and noah's arks, most of which are handmade in their own workshop.
They also sell wooden jigsaws, sit-n-ride toys, push and pull along toys, baby walkers, wooden train sets, lorries, cars, mobiles and numerous other wonderful products. The owner also restores rocking horses and dolls houses and carries out commissions to their customerís specifications and requirements.
The Toy Works is a Penrith toy shop that specialises in wooden toys.