Penrith Toy Shops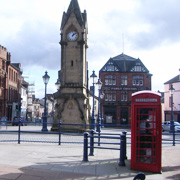 This attractive market town in Cumbria has a mix of High Street chains and specialist independent shops - including a very interesting toy shop in the form of Harpers Toymaster. Although Penrith is perhaps best known for being the setting for some of the scenes from the popular British film, Withnail and I, its natural charm and good selection of local shops make this an ideal destination for toy shoppers.
In addition to the towns two toy shops, Penrith still enjoys two market days (Tuesday and Saturday) - and the passing tourist trade ensures that several specialist food shops continue to thrive, including The Toffee Shop, J&J Graham Delicatessen and Cranstons Butchers. If you know of any other Penrith toy shops, we would love to hear about them.
FEATURED RETAILERS

Stocks a wide range of quality wooden toys including toy farms, castles and dolls houses.
Read more about The Toy Works >>
POPULAR RETAILERS
42 Lowther Street, Carlisle, Cumbria, CA3‎
0845 165 7181‎
OTHER RETAILERS
Harpers Cycles and Toymaster

1-2 Middlegate, Penrith, Cumbria, CA11 7PG
01768 864475