Cumbria Toy Shops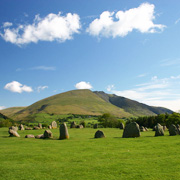 Narrow your results: browse for toy shops in Cumbria towns:
Barrow-in-Furness, Carlisle, Penrith.
Although Cumbria is mainly a rural county, there are several large towns that contribute to a good selection of Cumbria toy shops. The independently owned and run Toymaster shops are situated in Barrow-in-Furness, Penrith and Carlisle, and other Cumbria toy shops include those found in Windermere, Cockermouth, Keswick and Workington.
The largest shopping centre in Cumbria is The Lanes in Carlisle, and although populated with many of the multiple toy retailers, a great selection of Cumbria toy shops can be found in most of the towns. Some will specialise in just hobbies or gifts and gadgets, and others will have huge choices of toys, games, dolls and models.
FEATURED RETAILERS

Stocks a wide range of quality wooden toys including toy farms, castles and dolls houses.
Read more about The Toy Works >>

Toy shop and website selling many popular toy brands in many categories.
Read more about Toys and Hobbies >>
POPULAR RETAILERS
42 Lowther Street, Carlisle, Cumbria, CA3‎
0845 165 7181‎
1 County Mews, Theatre Street, Ulverston, Cumbria, LA12 7AQ
07530 109716
46-48 Castle Street, Carlisle, Cumbria, CA3 8JA‎
01228 548601‎
Earl Street, Carlisle, Cumbria, CA1 1DP
01228 598216‎
290 Warwick Road, Carlisle, Cumbria, CA1 2BX
01228 217877
Unit 49 The Market Hall, Scotch Street, Carlisle, Cumbria, CA3 8QX
07922 335786
Compston Road, Ambleside, Cumbria, LA22 9DJ
015394 33780
63 Quarry Rigg Shopping Centre, Bowness-on-Windermere, Cumbria, LA23 3DU
01539 448282
24 Lake Road, Keswick, Cumbria, CA12 5BX
01768 891237‎
72 Main Street, Cockermouth, Cumbria, CA13 9LU
01900 825855
OTHER RETAILERS
4 Kiddies

5 Coronation Drive, Frizington, Cumbria, CA26 3SD
01946 890004
Atkinsons Toy Shop

Promenade Shop, Lake Road, Windermere, Cumbria, LA23 3DE
01539 443047
Baby Bitz

8-14 Cavendish Street, Barrow-in-Furness, Cumbria, LA14 1SB
01229 215684
Carlisle Toys & Hobbies

46 Lowther Street, Carlisle, Cumbria, CA3 8DP
01228 590369
Gamestation

67 English Street, Carlisle, Cumbria, CA3 8JU
01228 547875‎
Harpers Cycles and Toymaster

1-2 Middlegate, Penrith, Cumbria, CA11 7PG
01768 864475
Heaths Toymaster

3 Harrison Street, Barrow-in-Furness, Cumbria, LA14 1JF
01229 833038‎
Heaths Toymaster

3 Harrison Street, Barrow in Furness, Cumbria, LA14 1JF‎
01229 833038‎
Little Heaven

14 Crescent Road, Windermere, Cumbria, LA23 1DT
015394 44468‎
Play & Learn

5 Tangier Street, Whitehaven, Cumbria, CA28 7UZ
01946 692169‎
The Toy Shop

72 Main Street, Cockermouth, Cumbria, CA13 9LU
01900 825 855‎
Touch Wood

3 Pack Horse Court, Keswick, Cumbria, CA12 5JB
017687 75110‎
Wooden Play Toys

70 Queen Street, Barrow in Furness, Cumbria, LA14 5NY‎
01229 826 904‎