Midsomer Norton Toy Shops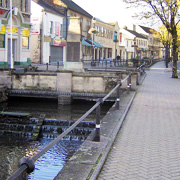 Near Bath, Bristol and Frome, the town of Midsomer Norton is used by many residents as a dormitory town for one of these larger places of work. The busy High Street is lucky to have a branch of The Entertainer independent toy chain with a huge selection of toys at all prices and styles.
A few other Midsomer Norton shops stock small ranges of toys and gifts - and shoppers donít have to travel far to reach one of the nearby bigger towns to find all the toys and gifts their children need. Signals is an excellent model shop just off Midsomer Norton's High Street. They have a terrific selection of model railway accessories as well as construction kits and paints.
POPULAR RETAILERS
80 High Street, Midsomer Norton, Somerset, BA3 2DE
01761 412238
OTHER RETAILERS
Rockys Magic Parties

46 Clevedon Road, Midsomer Norton, Somerset, BA3 2ED
07713 353430
Signals

8 Holly Court, High Street, Midsomer Norton, Somerset, BA3 2DB
01761 402484