LIBRIUM Games
No customer reviews yet. Be the first.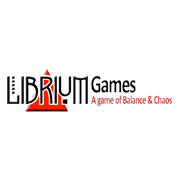 Address
19 Bakewell Drive, Stone, Staffordshire, ST15 8YR
Telephone
01785 286877
Contact
Send an email to LIBRIUM Games now >>
About
Located in Staffordshire, the idea for LIBRIUM Games was conceived at the beginning of 2011. It has developed into a unique collection of addictive card building games. The games can be played at home, in schools and even in pubs, managing to keep 2 to 5 or 6 players occupied for a great deal of time.
The LIBRIUM Game has often been described as a reverse Jenga, but others like to think of it as a 'thinking man's Buckaroo'. The games can be purchased from the dedicated LIBRIUM Games on-line store where most credit and debit cards are accepted through PayPal. An active on-line community with a forum can be accessed from the main LIBRIUM Games website, which also provides a gallery and registration facilities.
LIBRIUM Games Ltd manufacture LIBRIUM Games in the UK and can provide quality retail packs ready for retailerís shelves. Trade enquiries are very welcome.
LIBRIUM Games is a Staffordshire toy shop that specialises in games.