Stratford-upon-Avon Toy Shops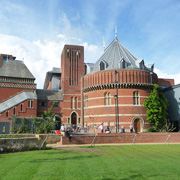 As the birthplace of William Shakespeare, Stratford-upon-Avon is a thriving tourist destination and a busy retail centre too. Although shoppers are unlikely to be bowled over by the choice of toy shops in Stratford-upon-Avon, there are some terrific independent stores.
A little model shop in Henley Street called Doug Brown Accessories is the perfect place for all model making enthusiasts. They sell a good selection of plastic kits, and a radio controlled toys section is visited as much by adults as younger children. For a focussed range of unsual toy items and gifts, Fairplay Toys also in Henley Street is worth a visit.
POPULAR RETAILERS
4-5 Henley Street, Stratford-upon-Avon, Warwickshire, CV37‎
0845 165 7210‎
OTHER RETAILERS
Doug Brown Accessories

19 Henley Street, Stratford-upon-Avon, CV37 6QW
01789 267 901‎
Fairplay Toys

Henley Street, Stratford-upon-Avon, Warwickshire, CV37 6NF
01789 261212